Temporary Campgrounds
Are you thinking about creating a temporary campground area for the April 2024 eclipse? If you are, you aren't alone! But, if you plan to have five or more camper sites on a property and are charging a fee for use of the sites, you must go through the temporary campground licensing process. With high demand expected, it's important that you get a jump on getting your necessary forms together and turned in to Wyandot County Public Health. While that might sound daunting, Wyandot County Public Health is here to help you through the process:
Do I need a license?
If you have 5 or more camper sites on your property and are charging a fee, you MUST have a temporary campground license. Temporary campgrounds are campgrounds set up for 7 days or less. Submit plans to Wyandot Co. Public Health AT LEAST 15 days before your event to ensure your plans are approved prior to your event.
How much is this going to cost?
The basic license costs $125. Each campsite over 50 will add an additional dollar. So, say you're having a huge solar eclipse party with 80 campsites. Your license cost would be $125, plus another $30 for the additional 30 campsites. A grand total of $155.
Why do I need a license?
The Ohio Administrative Code indicates you must have a license. Wyandot County Public Health carries out the licensing process for temporary campsites in Wyandot County. Beyond the legal reasons, the rules exist to ensure the safety of both you (the licensee) and the campers enjoying their time with you.
Okay fine, I'll do it. How do I get a license?
Find a plot of land you want to use.
Fill out the Temporary Campground Application for Plan Review and License to Operate form, create a proposed layout and create a vicinity map.
Send a letter requesting written verification by the fire protection authority or authorities that have jurisdiction in the area (your local fire department) that adequate fire protection can be provided to the campground.
Submit the application, proposed layout, and written verification from the fire department to Wyandot County Public Health.
How do I create a proposed layout and vicinity map?
Tip: Use Google Maps/Earth. Be sure to zoom out for the vicinity map so nearby roadway names are visible. See our proposed layout and vicinity map examples.
Things to keep in mind:
Lots must be a minimum of 1,000 square feet and should be CLEARLY DEFINED. Campers must be a minimum of 15 feet apart (yes, this includes pop outs!). We recommend making sites at least 30 by 35 feet.
Each site must be accessible to an access lane or road. An ambulance should be able to access every camp site in case of emergency.
No more than the following number of units shall be permitted on any one site:

One recreational vehicle (A camper with a toilet) and two portable camping units, or

Three portable camping units.

Bathrooms must be within 1,000 feet walking distance of each site. View the chart below to see how many bathrooms you need based on how many lots you have.
| | | | |
| --- | --- | --- | --- |
| Sites | Urinals | Men's Toilets | Women's Toilets |
| 5-15 | | 1 | 1 |
| 16-30 | 1 | 1 | 2 |
| 31-60 | 1 | 2 | 3 |
| 61-90 | 2 | 2 | 4 |
| 91-120 | 2 | 3 | 5 |
| 121-150 | 3 | 3 | 6 |
*If you have more than 150 sites, please contact the health department for the number of toilets needed.
Does my site have to have bathrooms, shower facilities, water, electricity, and trash receptacles?
You MUST offer bathrooms such as portable toilets based on the number of sites you'll have.
You are not required to offer shower facilities. But when they are offered you must provide separate shower facilities for each sex. There are additional requirements for shower facilities. If you plan to offer them, contact Wyandot County Public Health to learn more.
You are not required to offer water. If you are offering water hook ups, it must be from a public water system or approved private water system. Contact Wyandot County Public Health for more information.
You are not required to provide electricity to camp sites. All electrical work within a campground shall be according to the current edition of the national electric code (NEC) or the local code, whichever is more stringent, with written certification by a licensed contractor.
Proposed Layout Example
Check the following:
Site sizes are clearly marked (our example uses the recommended 30ft by 35 ft. size)
Toilet location and numbers are clearly marked.
Designate one site as the location of the site manager for the entirety of the event.
All of the sites are accessible by a drivabale pathway that can fit an ambulance, we started with 30 foot pathways and made them a little larger based on the space available.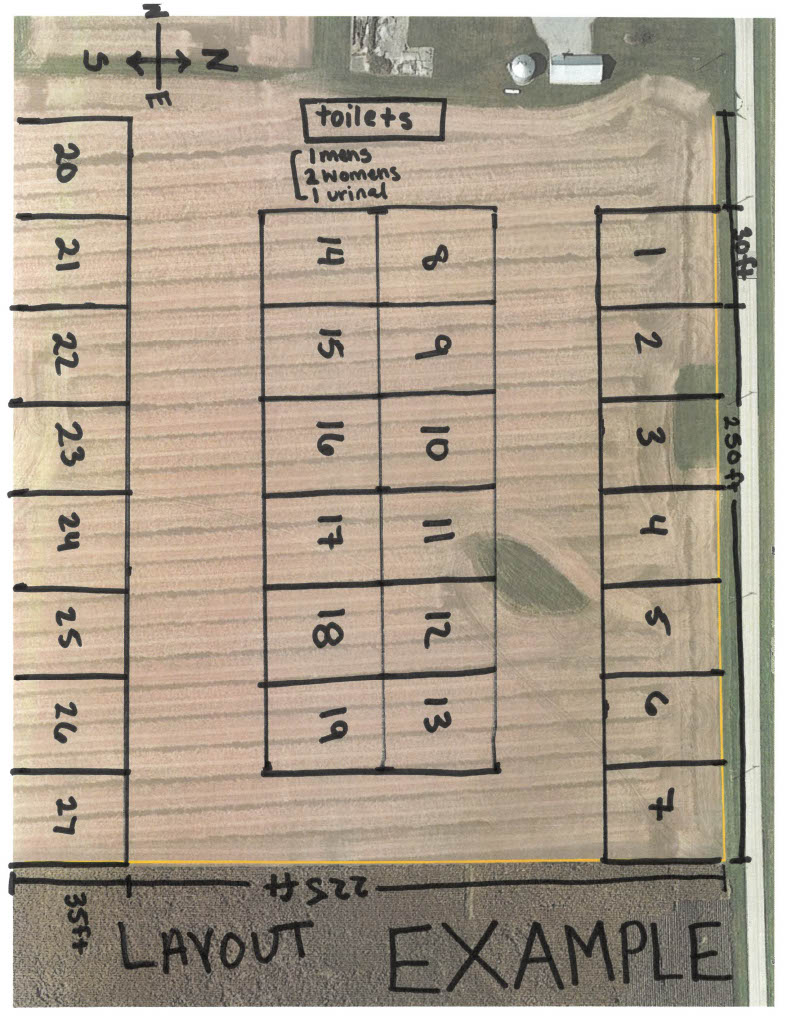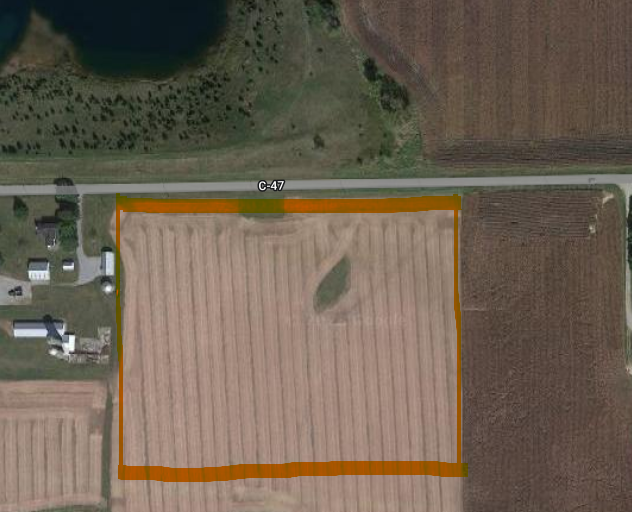 Vicinity Map Example
*Created using Google Maps screen capture
Check the following:
All access roads to the site are visible.
The roadway names are visible.
List the closest address to the lot. Include directions from that address to the lot you will be using.
What about safety measures?
Make sure the numbers for each lot are clearly marked and easy to see. Give campers a large number to tape to their camper or spray paint the number on the ground.
The sign shall contain the address of the campground and telephone numbers for emergency services, including but not limited to police, sheriff and fire or rescue units.
Your kit must consist of unused disposable gloves and a sufficient supply of materials to stop bleeding, and to clean and cover minor cuts and abrasions.
Do I have to set any rules for the campers?
It's important to set rules that will protect the safety of your guests. Rules established for the campground MUST be conspicuously posted or provided to patrons upon arrival. See our example. You also MUST post the emergency telephone information and address of the campsite in a central location.
Consider the following when setting the rules:
Traffic flow
Overcrowding and spacing of camping units
Noise control
Use of hazardous materials and fire safety
Use of park or camp facilities and prevention of nuisances
Swimming area safety if applicable
Pet control if applicable