Ohio Buckles Buckeyes Car Seat Program
Through the Ohio Buckles Buckeyes (OBB) Car Seat Program, Wyandot County Public Health provides child safety seats and booster seats to eligible low-income families for a minimal fee.
The overall goal of the OBB program is to increase the availability of child safety seats for families who could not otherwise afford them and to increase correct installation and proper use of child safety seats.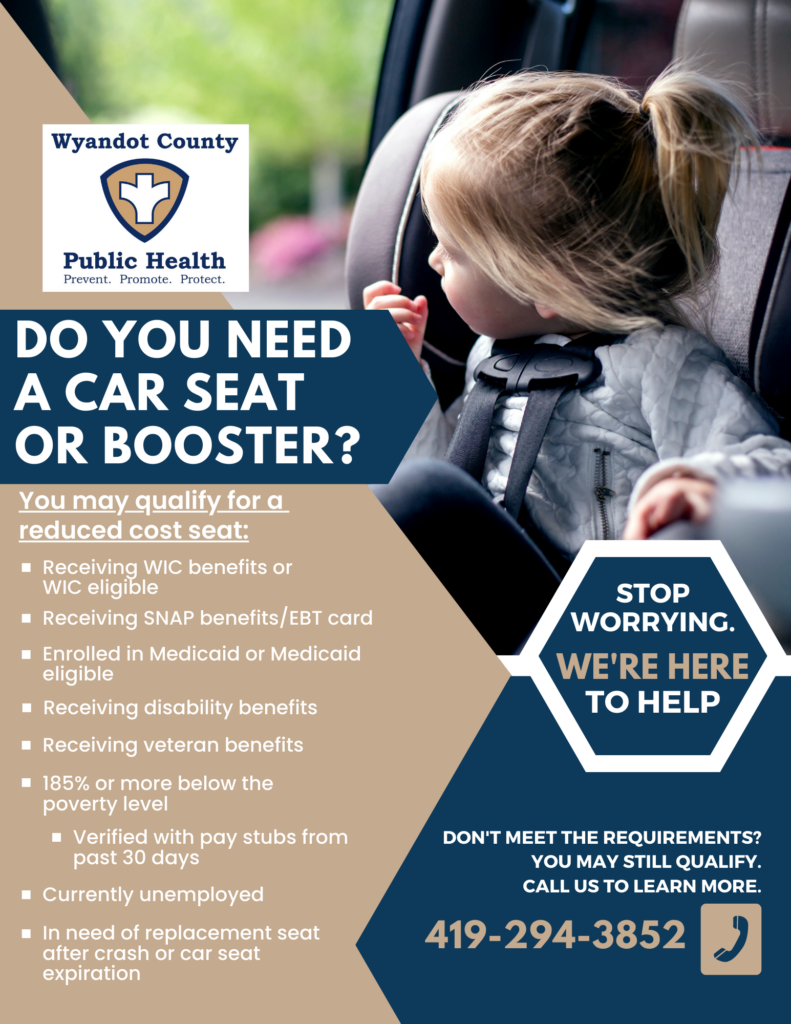 OBB Program Requirements
To be eligible for car seats families must meet the following requirements:
Family income within WIC guidelines of 185% of the federal poverty level.
Resident of Wyandot County.
Attend an educational class at the health department with a Certified Car Seat Technician. These classes are typically conducted during your car seat appointment and teach the proper installation and use of the seat. Car seat appointments take between 30-45 minutes.
Schedule your OBB appointment
Fill out a Car Seat Request Form and email it to OBB program coordinator Callan Pugh.
To schedule your OBB appointment, please contact Wyandot County Public Health at 419-294-3852 from 8:30 a.m. to 4:30 p.m. weekdays, excluding holidays. Appointments are required to ensure Certified Car Seat Technician availability.
Appointments typically take 30-45 minutes. Please plan accordingly.
Can't make your appointment? If you find that you are unable to make your appointment, please call before your missed appointment to reschedule. Car seat availability is not guaranteed for no shows.
OBB appointment cost
Wyandot County Public Health asks for a donation of $20 per car seat. While the seats are free, the donation covers the car seat technician's time to ensure the program can continue to help Wyandot County families.
Safety Seats
The OBB program currently offers the Evenflo SureRide/Titan 65 convertible seat (rear-facing and forward-facing capable) and the Evenflo GoTime Sport/LX booster seat.
SureRide/Titan 65 convertible car seat requirements:
Rear-facing from 5-40 pounds, and from 19-40 inches.

For information about how to install this seat click here.

Forward-facing from 22-65 pounds, and from 28-54 inches. (Must be at least two years old)

For information about how to install this seat click here.
GoTime Sport/LX booster requirements:
For use for children four and older who weigh between 40-120 pounds and who are 44-57 inches tall.
Car seat checks
Wyandot County Public Health offers free car seat checks for families that want to ensure their seats are properly installed. These checks are sure to be educational no matter if you're installing your first car seat for your first child or if you're a grandparent. Our certified car seat technicians will walk you through proper installation of your car seat or booster.
It is important that individuals bring both their car seat/ booster seat manual and their vehicle owner's manual to this appointment.
Appointments are available by calling 419-294-3852. Wyandot County Public Health also offers some car seat check events throughout the year. Visit @WyandotHealth on Facebook or Wyandot County Public Health's schedule on Yodel to check for upcoming car seat check events.
Additional Resources
Ohio's Child Passenger Safety Laws (website)
Don't Risk Your Child's Life (video)