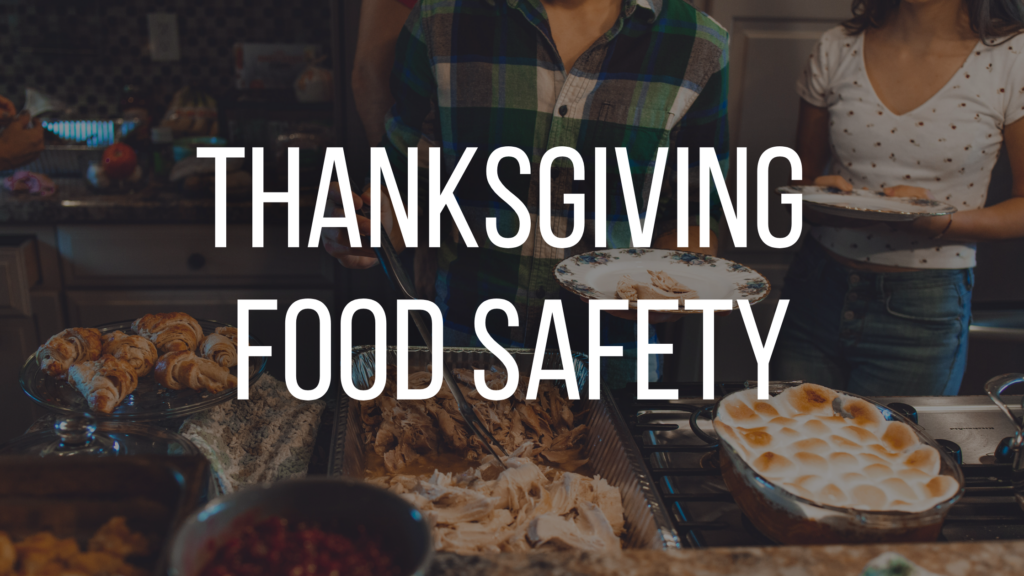 Thanksgiving is on its way, but before county residents get to gobbling Wyandot County Public Health is sharing the low down on food safety surrounding the Thanksgiving meal.
For proper food safety, always remember to clean, separate, cook and chill. Clean hands and surfaces often. Separate raw meats from other foods to avoid cross contamination. Cook foods to proper temperatures and check those temperatures with a food thermometer. Finally, chill food promptly in a refrigerator once finished with the meal.
The raw on the thaw
Unless purchasing a turkey a few days before Thanksgiving, thawing is a major part of preparation for the Thanksgiving meal.
Wyandot County Public Health's Food Safety Specialist Danielle Schalk explained that turkey should never be thawed on the counter or in hot water, as these methods create opportunities for bacteria present before freezing to multiply. Sitting the bird out on the counter allows the outer parts of the turkey to warm up into the temperature danger zone between 41 and 135 degrees, while the internal portions remain frozen.
Instead, turkey should be thawed ahead of time in the refrigerator or under cool running water. A frozen turkey will take at least 24 hours to thaw in the fridge for every five pounds of weight – so larger turkeys will need to start thawing several days before the big meal – as early as the Thursday or Friday before Thanksgiving for larger turkeys. Turkey should be cooked within two days once thawed.
Be sure to prepare by cleaning out and sanitizing the fridge so it is ready to safely hold the turkey while it thaws. Turkeys should be placed on a tray with raised edges on the lowest shelf to avoid juices spreading around the refrigerator and to other food.
Cold water thawing is faster as it requires about 30 minutes per pound to thaw. Turkey should be thawed under cool, running water and should remain in its original packaging throughout the process to keep bacteria from spreading to the surrounding environment.
Treat raw turkey with care
Any time of the year, and especially this Thanksgiving, raw meat should be kept separate from any foods that will not be cooked, Schalk explained.
To prevent cross contamination, raw meat should be prepared using separate cutting boards and utensils. Raw turkey should be prepared on easily cleaned solid surfaces such as a plastic cutting board and kept away from other foods. While wooden cutting boards work great for many food items, as they are used over time, they can get grooves and may be porous allowing them to hold on to harmful bacteria that can be transferred onto foods in the future.
The surfaces and any utensils that touch raw meat should be thoroughly cleaned and sanitized before they are used for other food preparation. Soap and water and a spray disinfectant can help ensure lurking bacteria is not an uninvited dinner guest.
Never rinse a turkey before cooking it. Doing so may allow for the spread of bacteria to surrounding surfaces.
Watch the temperatures
One of the most important food tools to utilize when preparing for the meal and making it is thermometers, both in the refrigerator and in cooked food, Schalk said.
"That's the only way to tell if it's properly cooked or if it's staying cold enough," she explained.
Refrigerators should be kept at or below 41 degrees. Items stored in the freezer should stay at or below zero degrees. Appliance thermometers are the best way to keep an eye on appliances and can be found inexpensively.
Turkey must reach internal temperatures of 165 degrees to be considered safe for consumption. Check the innermost part of the thigh, the innermost part of the wing and the thickest part of the breast.
For families that enjoy stuffing in the bird, the stuffing also must reach 165 degrees within the bird so that the parts that touch raw meat are safe to eat. Waiting around 20 minutes after the turkey comes out of the oven to remove the stuffing can allow more cook time to reach safe temperatures.
Do leftovers right
Ideally, leftovers should be stored in the refrigerator immediately after everyone is done eating.
Once dinner is served, food can sit out in the temperature danger zone between 41-135 degrees for around two hours before it must be refrigerated to stop the growth of harmful bacteria.
When reheating leftovers, food should be heated back up to at least 165 degrees to ensure that any bacteria on the food is killed. Use a thermometer to double check that the proper temperature is reached.
When safely stored and reheated, leftovers can be enjoyed for at least 3-4 days, Schalk said. The maximum amount of time leftovers can be kept is seven days.
"When in doubt, throw it out," Shalk said. "If it smells funny, don't eat it."
Avoiding food poisoning
Director of Nursing Jamie Crawford said foodborne illness can come from a few sources.
Salmonella-caused food poisoning is often associated with the Thanksgiving holiday because it can develop from eating raw or undercooked poultry or from eating food that touched raw or undercooked poultry or the surfaces and utensils on which it was prepared. Proper hand washing after handling raw meat also is important, as Salmonella can pass on to other foods as they are handled.
Hand washing is equally important for avoiding E. coli foodborne illness. This time of year, it is common that the nurses at Wyandot County Public Health see instances of food poisoning from E. coli, which is associated with bacteria found in fecal matter. Food poisoning from E. coli can occur if a person fails to properly wash their hands after using the restroom before preparing food. Farmers and those who work with animals also are susceptible to E. coli Crawford said, as they may be out working in the field and stop to take a lunch break without properly washing their hands, allowing germs to transfer from their hands to their food.
Food poisoning, whether it is caused by Salmonella, E. coli or clostridium perfringens, can bring with it stomach cramping, nausea, vomiting and diarrhea, sometimes severe enough to cause dehydration and even a stay in the hospital. Unfortunately, food poisoning from Salmonella and E. coli also can be the gift that keeps on giving as symptoms can last up to a month.
People may also have shorter food poisoning effects from the bacteria Clostridium Perfringens, which grows in cooked foods left at room temperature too long. It comes with symptoms of diarrhea and stomach cramps appearing within 24 hours of consuming the food and lasting for about a day after. Typically, people do not experience a fever or vomiting with this stomach bug, Crawford said. Outbreaks of clostridium perfringens occur most often in November and December and are often associated with foods commonly served during the holidays.
Those who suspect food poisoning should visit their doctor, Crawford said. Some stomach bugs can be treated with antibiotics, but others must run their course. Medication to stop diarrhea should not be used in most cases, as diarrhea helps to remove the toxins. Staying hydrated also will help as the body works to flush the toxins out. A general rule of thumb, Crawford said, is to drink one electrolyte drink for every three bottles of water to ensure the body stays hydrated and balanced with electrolytes.
This Thanksgiving and every day remember to follow food safety guidelines by cleaning, separating, cooking and chilling.
"You're trying to get together to have a good time, but if everyone's leaving ill with food poisoning, they're not going to come back," Schalk said. "Don't be accused of 'fowl' play. Follow food safety guidelines and don't poison your family – especially when it comes to handling raw turkey."
Test your food safety knowledge with Wyandot County Public Health's Thanksgiving Food Safety quiz. The quiz is open until Nov. 22. Participants will be entered to win a digital meat thermometer. Visit @WyandotCountyPublicHealth on Facebook to find the link or click here.