March 12, 2021 Wyandot County Public Health COVID-19 Update:
Anyone can preregister for the COVID-19 vaccine here: wyandotgetvaccinated.com. Enter your contact information and health history, and we will contact you when vaccine is available. If you have friends or family that need assistance preregistering, we encourage you to help them if they are interested in receiving the COVID-19 vaccine.
View Ohio Department of Health's COVID-19 Vaccine information here: COVID-19 Vaccination Dashboard (ohio.gov)
There are currently 91 active cases of COVID-19 in Wyandot County. The cumulative case count since March 2020 is 2,150. This includes 1,665 lab-confirmed cases, 455 probable cases, and 30 suspected cases based on positive antibody tests. There are currently 4 patients hospitalized for COVID-19. Of the reported individuals, there have been 50* deaths and 2,009 individuals have been released from isolation.
*Due to changes in reporting of deaths by the Ohio Department of Health, Wyandot County COVID deaths decreased. There may be more fluctuations as ODH continues to review death certificate information.
Please continue to practice social distancing, wear face coverings in public, clean and disinfect regularly, monitor your health daily, and wash your hands frequently.
As of 2:00 PM Friday, the Ohio Department of Health has reported 986,740 confirmed and probable cases, 51,438 hospitalizations, and 17,871 Ohio resident deaths. For additional statewide case information, download the COVID Summary data spreadsheet here: https://coronavirus.ohio.gov/static/dashboards/COVIDSummaryData.csv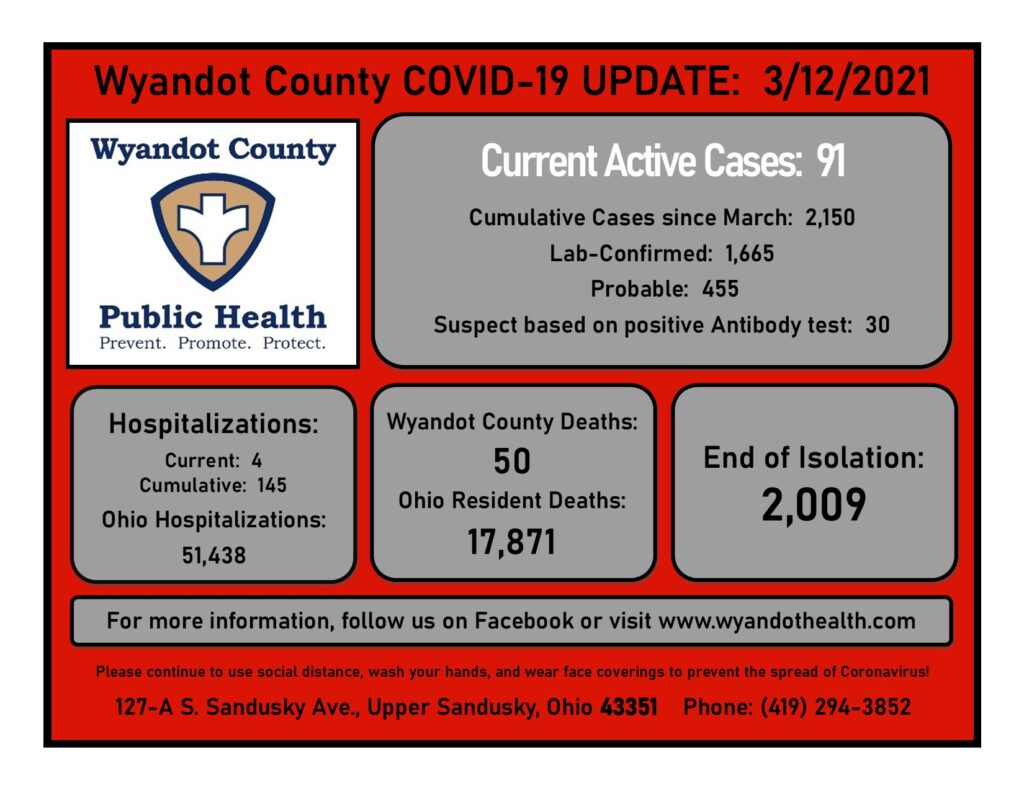 The Ohio Department of Health has created the following dashboard that will provide you with
both local and regional data: https://coronavirus.ohio.gov/wps/portal/gov/covid-19/home/dashboard
As we continue to respond to the COVID-19 outbreak, it is important that we rely on accurate information. Wyandot County Public Health recommends the following resources:
ODH Information Line (833) 4 ASK ODH
State- https://coronavirus.ohio.gov
Federal- https://www.cdc.gov/coronavirus/2019-ncov/index.html