December 8, 2021 Wyandot County Public Health COVID-19 Update:
Open COVD-19 Vaccine Clinics (Moderna) are held on Fridays from 9am-4pm at Wyandot County Public Health.
There are currently 203 active cases of COVID-19 in Wyandot County. The cumulative case count since March 2020 is 3,860. This includes 2,765 lab-confirmed cases and 1,095 probable cases. Nineteen patients are currently hospitalized for COVID-19. Of the reported individuals, there have been 75 deaths, and 3,582 individuals have been released from isolation.
As of 2:00 PM Wednesday, the Ohio Department of Health has reported 1,752,508 confirmed and probable cases, 88,960 hospitalizations, and 27,011 Ohio resident deaths. For additional statewide case information, download the COVID Summary data spreadsheet here: https://coronavirus.ohio.gov/static/dashboards/COVIDSummaryData.csv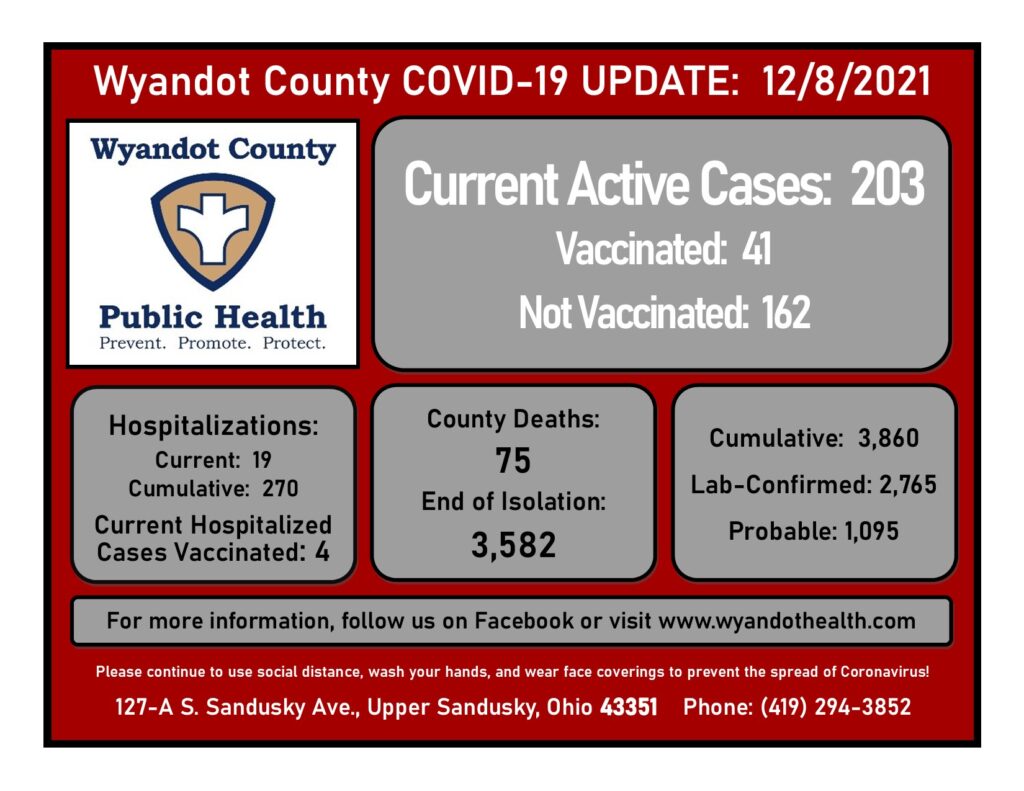 View Ohio Department of Health's COVID-19 Vaccine information here: https://coronavirus.ohio.gov/wps/portal/gov/covid-19/dashboards/covid-19-vaccine/covid-19-vaccination-dashboard
To view information on breakthrough cases in Ohio, click here: https://coronavirus.ohio.gov/wps/portal/gov/covid-19/dashboards/covid-19-vaccine/breakthrough-dashboard
The Ohio Department of Health has created the following dashboard that will provide you with
both local and regional data: https://coronavirus.ohio.gov/wps/portal/gov/covid-19/home/dashboard
As we continue to respond to the COVID-19 outbreak, it is important that we rely on accurate information. Wyandot County Public Health recommends the following resources:
ODH Information Line (833) 4 ASK ODH
State- https://coronavirus.ohio.gov
Federal- https://www.cdc.gov/coronavirus/2019-ncov/index.html