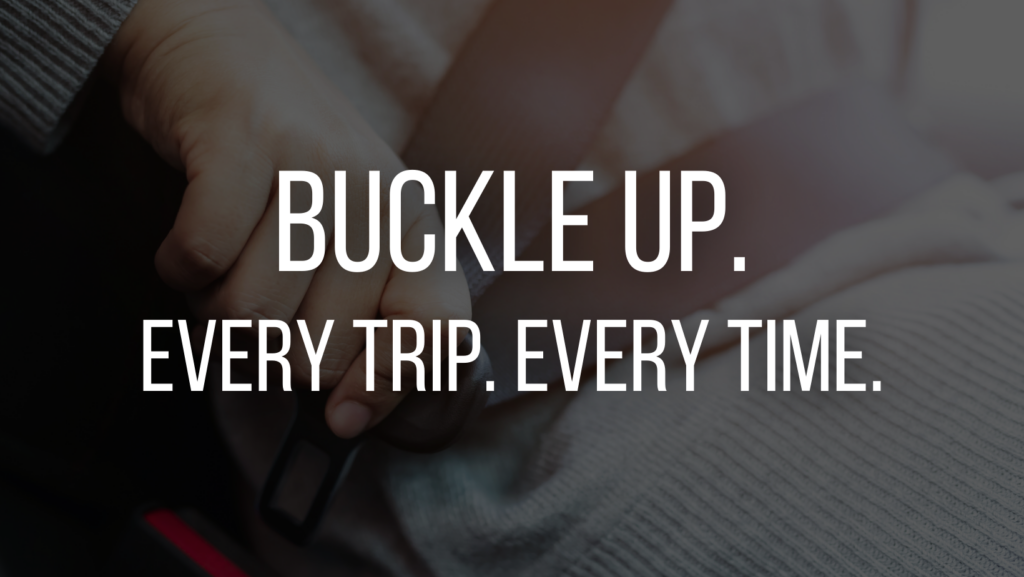 The Thanksgiving holiday is the kickoff to the busiest season of the year. With all the rushing and holiday travel, it's important drivers and passengers remember to buckle their seatbelts. To keep drivers and their passengers safe, the Wyandot County Safe Communities Coalition and the Wyandot County Sheriff's Office is sharing an important lifesaving reminder: Buckle Up. Every Trip. Every Time.
According to data from the Ohio State Highway Patrol, during the Thanksgiving period in 2020, from 6 p.m. Wednesday Nov. 25 to 5:59 a.m. Monday Nov. 30, there were 542 unbelted-related crashes in Ohio, seven of which were fatal. Make this Thanksgiving different than years past by buckling up — the best defense against injury or death in a crash.
In 2019, there were 22,215 passenger vehicle occupants killed in traffic crashes in the United States. Almost half, 47%, of those who were killed were not wearing seat belts. The facts don't lie — when a front-seat occupant of a passenger car wears their seatbelt, their risk of fatal injury goes down by 45%. For light-truck occupants, that risk is reduced by 60%.
"It takes just a few minutes to buckle up," Wyandot County Sheriff Todd Frey said. "We want you to arrive safely to your destination – whether it be to visit family, friends or a work-related holiday event."
Sheriff Frey said he's seen numerous accidents over his 30-years of experience where a person could have possibly prevented injury or even death simply by making a point to use safety belts.
"We know that Thanksgiving is a time where family and friends will gather that haven't seen each other for a while," Frey said. "We want everyone to be safe and responsible when getting behind the wheel of a vehicle. Be courteous by using your turn signals. Give plenty of time to have people behind you slow down. Make sure you're not following too closely and follow the speed limit. Be a defensive driver."
Locally Frey said drivers should be especially cautious at intersections noting that a number of recent incidents, especially on county and township roads, have occurred because drivers failed to stop at an intersection.
Younger people continue to be overrepresented in fatal crashes and seat belt non-use. Among young adults 18 to 34 killed while riding in passenger vehicles in 2019, 57% were completely unrestrained — one of the highest percentages for all age groups. Additionally, Men make up the majority of those killed in motor vehicle traffic crashes. In 2019, 65% of the 22,215 passenger vehicle occupants who were killed were men. Men wear their seat belts at a lower rate than women do — 51% of men killed in crashes were unrestrained, compared to 40% of women killed in crashes.
In addition to being sure to buckle up, Frey said drivers should be careful to avoid driving while distracted or impaired.
"If your celebration is going to include alcohol, please have a designated driver or call someone to come and pick you up," Frey said. "We also ask residents of Wyandot County to be our eyes as well. If you see anything that is suspicious while driving, or it looks like someone may be driving impaired we need your help by calling 911 or the sheriff's office."
Surviving the Thanksgiving drive can be as simple as buckling up. In the last decade, seat belts have saved the lives of more than 100,000 people in the United States. Buckle Up. Every Trip. Every Time.
Drive safely this Thanksgiving. Click here for more information.