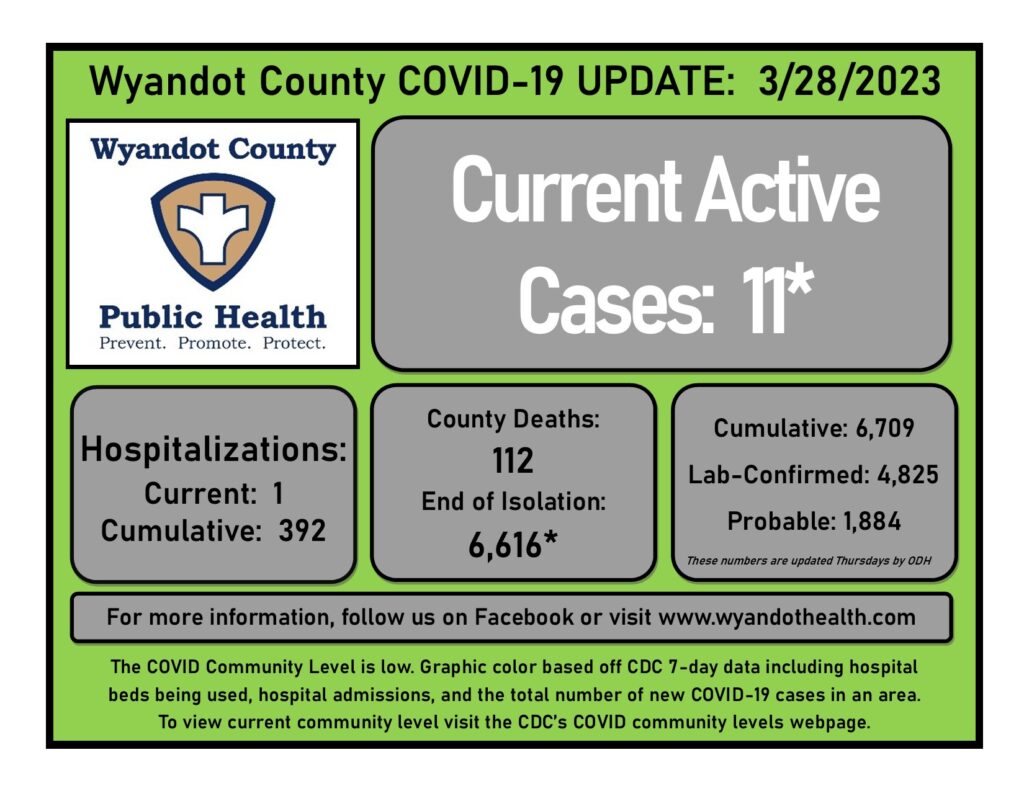 Walk-in COVID-19 vaccine clinics for 18 and older are 9 a.m. to 4 p.m. Wednesdays at Wyandot County Public Health. Youth aged 6 months to 17 years may receive COVID vaccinations by appointment on Mondays and Fridays. To schedule, call 419-294-3852. Free COVID-19 test kits are available weekdays from 8:30 a.m. to 4:30 p.m. while supplies last.
There are 11* active cases of COVID-19 in Wyandot County. There is one patient hospitalized with COVID-19. Per the Ohio Department of Health, the cumulative case count since March 2020 is 6,709. This includes 4,825 lab-confirmed cases and 1,884 probable cases. Of the reported individuals, there have been 112 deaths. ODH updates these numbers weekly on Thursdays. A total of 6,616* individuals have been released from isolation.
Wyandot County's community level per the CDC is low (green). Prevention recommendations include staying up to date with COVID-19 vaccinations and boosters, avoiding contact with people who have suspected or confirmed COVID-19, isolating when sick with suspected or confirmed COVID-19, and following recommendations when exposed to a positive case. Those who are at high risk of getting very sick should wear a high-quality mask or respirator when indoors in public. Individuals who are in contact with high-risk individuals should consider self-testing before contact and wearing a high-quality mask when indoors with them. For a complete overview of community levels visit cdc.gov/coronavirus/2019-ncov/your-health/covid-by-county.html.
As of 2 p.m. Thursday, March 13, 2023, the Ohio Department of Health has reported 3,415,254 confirmed and probable cases, 138,882 hospitalizations, and 41,924 Ohio resident deaths. These numbers are updated by ODH weekly on Thursdays. For additional statewide case information, download the COVID Summary data spreadsheet here: https://coronavirus.ohio.gov/static/dashboards/COVIDSummaryData.csv.
* The current active cases and end of isolation numbers are reported using the 10-day end of isolation guidelines per the CDC's current end of isolation recommendations. These numbers differ from state reported numbers, which are based on a 21-day recovery period.